A Letter to Patients with Anxiety at the Dentist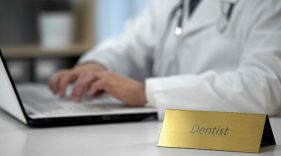 If you experience anxiety at the dentist, you're not alone. Many dentists and hygienists understand that patients may fear going to the dentist, but they are here to help.
Below is a letter from Brooke Bodart, certified dental hygienist, to patients who experience anxiety at the dentist.
Dear anxious patient,
First things first, please don't be afraid to come and see me! As a dental hygienist, my number one concern is making sure you are healthy and well taken care of. If you are really fearful and anxious about coming in, please share those feelings with me. If it helps, write them out and we can talk through them. That way, we can be sure to cover everything and help make you feel more comfortable. Please also know that it is not my intention to ever hurt you, but it is also not within my control sometimes. If you have an unhealthy mouth, I am trying my very best to get it clean for you, which may sometimes be uncomfortable.
I will also need to talk to you about how you care for your teeth at home, so please be honest with me and I will try not to make you feel bad. But remember – it's a team effort! I can only do so much to keep your mouth healthy, so you must also do your part at home.
I love being a hygienist and without you in my chair, I can't do the job that I love. So please, come by and see me. If it's been a long time since you last visited, please be prepared to come see me more often. These appointments are necessary to get your oral health back, so let's work on it together. I also have a lot of great ideas and ways for you to work on oral health at home, so please give me feedback on what does and doesn't work for you. It's not going to be easy, but we can find ways to make it more accessible for you to do.
I'm here to help! Please share with me how I can make this the best experience possible.
Thanks,
Brooke Bodart, RDH
To find a dentist in your area to help alleviate your anxiety, CLICK HERE.
Comments
comments
Tweets
Poll
Loading ...
Categories
Archives
DD Wisconsin Blog
delta
delta blog
Delta Dental
delta dental blog
Delta Dental of WI
delta dental of wisconsin
delta dental of wisconsin blog
dental benefits
dental blog
dental health
dental insurance
oral health
Wisconsin
wisconsin blog