Oral health issues that may arise with age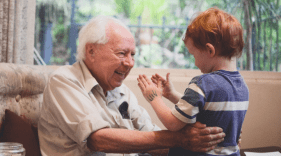 As you age, your body can experience shifts in health that affect your mouth in unexpected ways. In honor of Healthy Aging Month, take a look at two conditions people may encounter with age that can affect their oral health: Sjögren's syndrome and bone loss.
Sjögren's syndrome
People age 40 and older can develop a chronic autoimmune condition called Sjögren's syndrome. As many as 4 million Americans currently are living with Sjögren's. While experiences with the disease vary widely, some of its symptoms include difficulty talking, chewing, or swallowing; a sore or cracked tongue; a dry or burning throat; dry or peeling lips; and severe fatigue.
However, one symptom that's shared to some degree among almost every person with Sjögren's is dry mouth. Without adequate levels of saliva to help remove mouth debris, your teeth become increasingly vulnerable to decay. Fortunately, there are ways to lessen the effects such as taking frequent drinks of water, reducing alcohol and caffeine consumption, avoiding tobacco, limiting the number of carbonated beverages you drink, chewing sugar-free gum, using artificial saliva, and trying an oral rinse. Additionally, you likely qualify for extra cleanings through the Evidence-Based Integrated Care Plan (EBICP), which is part of your coverage. Log in to the Member Connection at www.deltadentalwi.com/member to check. If you are a member but don't yet have a login, you can create one on that page as well.
Bone loss
As you age, you become increasingly vulnerable to bone loss. One of the more common causes is osteoporosis, which causes bone density to decrease. In the United States alone, over 53 million people already have osteoporosis or are at high risk for developing it. Women are especially susceptible to bone loss, since many experience lower estrogen levels after menopause.
What does all this have to do with your smile? When your jaw bones lose density, you become more susceptible to loose teeth and tooth loss. It can also cause your gums to recede, leaving more of your tooth exposed and susceptible to tooth decay.
With these threats to your oral and overall health, it's important to take proactive measures to stay in control. Calcium (and phosphates) and vitamin D are critical to preventing bone loss. Avoid smoking, limit alcohol consumption, and engage in regular weight-bearing exercise such as walking, jogging, and weight training. Work with your dentist to prevent bone loss or to treat it if you've already begun experiencing symptoms. By staying vigilant and working with your dentist and physician, you can help ease the effects of Sjögren's syndrome and bone loss.