Considering Contact Lenses? Don't Be Shy.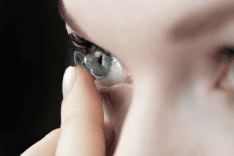 If you have any questions about contact lenses, your eye doctor can help. He or she should be happy to answer all your questions, so don't hold back, even if you think some may be trivial. Here's a guide on what to do and think about before and during your visit.
Things to consider:
Is vision correction affecting your activities or self-esteem?
Do you consistently wear your glasses when needed? Are they frequently broken, lost, or dirty?
How interested are you in contact lenses? Are you motivated enough to take care of them?
Have you noticed any eye problems such as blurry vision, flashes of light, poor night vision, or double vision? Do you have trouble tracking moving objects, judging distances, or determining colors?
How's your general health? Be ready to tell the eye doctor about injuries, chronic conditions, allergies, medications, or operations.
Does your family have a history of eye problems such as glaucoma, cataracts, or other ailments?
What to bring:
Your current contact lenses or eyeglasses if you have them, and a copy of your last prescription for glasses and contact lenses, if available
Your vision insurance card (if needed)
What to ask:
How is my vision? What are my vision correction options? What's going to provide the best vision and the most flexibility given my activities and needs?
And, of course, if anything is confusing during the examination, you shouldn't hesitate to ask your eye care professional.
Regular eye exams play a vital role in a healthy life – find a DeltaVision® provider near you today!
Article information courtesy of Johnson & Johnson Vision Care Inc., makers of ACUVUE® Brand Contact Lenses.
ACUVUE® is a trademark of Johnson & Johnson Vision Care, Inc. ©Johnson & Johnson Vision Care, Inc. 2013.
Comments
comments
Tweets
Poll
Loading ...
Categories
Archives
DD Wisconsin Blog
delta
delta blog
Delta Dental
delta dental blog
Delta Dental of WI
delta dental of wisconsin
delta dental of wisconsin blog
dental benefits
dental blog
dental health
dental insurance
oral health
Wisconsin
wisconsin blog