How Our Foundation's Cool Water Program™ Keeps Kids Smiling at School
The Delta Dental of Wisconsin Foundation is making it cool to drink water at school. Why? Because drinking water after eating helps wash away food and bacteria that lead to cavities. Cavities are 100% preventable, and yet it's reported that three in 10 school children have missed school due to an oral health problem.
The Delta Dental of Wisconsin Foundation started its Cool Water Program™ to help kids replace sugary beverages like soda, juice, and sports drinks with a healthy alternative. By drinking water throughout the school day, kids can keep their teeth strong and healthy, combat obesity, and increase their energy levels.
Cool Water Program Successes and Accomplishments
So, how does it work? Our Foundation provides grants to a number of schools across Wisconsin based on criteria for selection. During the summer, we replace one of the school's existing drinking fountains with a new water fountain and bottle filling station. Then, in the Fall, we also donate reusable water bottles and, of course, toothbrushes to all students and staff to celebrate the new installation.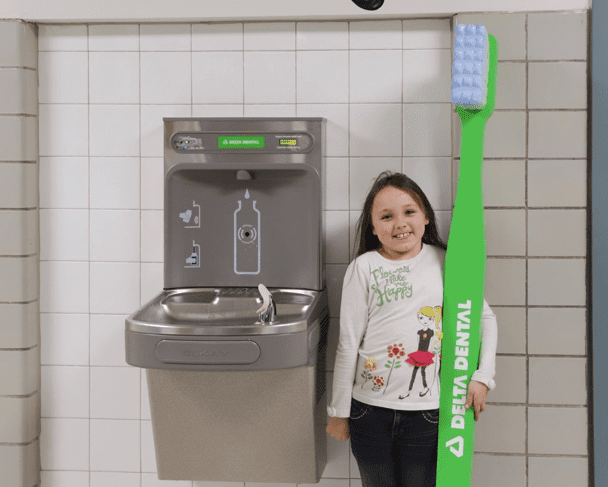 The Foundation closed the inaugural 2019 application at the end of March, and by the next month had chosen 20 Wisconsin schools to receive the grant. We kicked off the Cool Water Program delivery at Al Behrman Elementary in Baraboo, Wisconsin, launching the Program at 19 more schools before the year's end. We visited Wilson Elementary in West Allis, Howe Elementary in Green Bay, Arcadia School District's elementary school, Howe School in Wisconsin Rapids, and more. Click here for a full list of the 2019 Cool Water Recipients.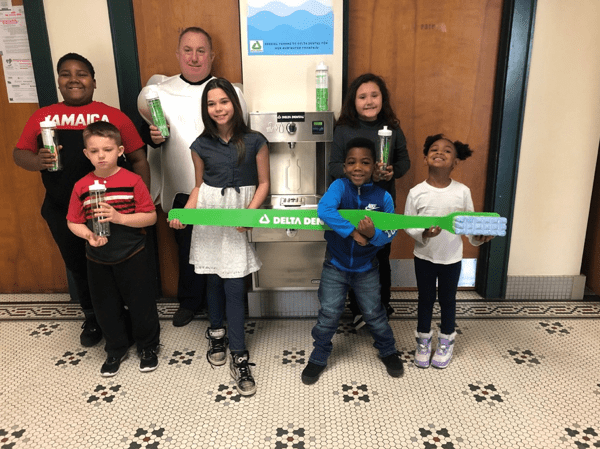 Selection Criteria for Our Cool Water Program
Is your school next? Apply to be a part of our Foundation's Cool Water Program.
Preference is given to schools in a community with optimally fluoridated water. Additionally, schools without water fountain and bottle filling stations already installed are also given preference. Selection is based on the most creative and impactful implementation plan to encourage students and staff to drink more water. Schools should also have a free-and-reduced lunch rate of 40% or higher.
We are accepting applications February 3, 2020 through April 30th, 2020. Click here for details and contact information.