Teeth Whitening: Dos and Don'ts of Brightening Your Smile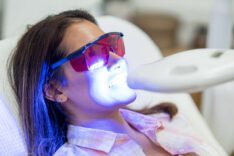 In today's world, you see teeth whitening products and promotions all over commercials and on social media, but how do you know which products work and how to start a regimen?
When it comes to teeth whitening, all these different methods and treatments can be overwhelming, but we have some tips and tricks that will help you freshen up your smile while still maintaining a healthy mouth.
First, let's look at why you may need to consider a whitening routine.
What Causes Teeth to Change Color
Many factors play into teeth losing their shine. Here are a few of the most common reasons:
Now that you know some of the factors that play into teeth losing their shine, here are a few teeth whitening Dos and Don'ts:
Do
Don't
Want to take your teeth to the next level? Consider these natural methods for complimenting your efforts:
Natural Whitening Methods
As you can see, there are various factors to consider when it comes to teeth whitening, but the best method to keeping your smile bright revolves around being consistent with your diet and your oral health care routine. Maintaining a healthy mouth requires constant care through brushing, flossing, and visiting the dentist for checkups and cleanings at least once a year.