Celebrate Earth Day by Going Paperless with Your Explanation of Benefits Statement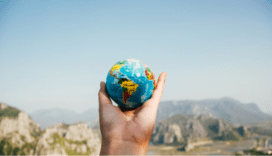 With Earth Day occurring in April, it's a great reminder that we can all do something positive for the environment. Here at Delta Dental, we're trying to make Earth Day an everyday objective – not just a single day or month on the calendar. This Earth Day, you can help us make our planet greener one (less) piece of paper at a time by going paperless with your EOB, or Explanation of Benefits.
If you're unsure what an EOB is, it's a communication from us (the benefits carrier) to you, our member. It notifies you that your dental provider has submitted a claim for services you received in their office. This document lets both you and Delta Dental know what the dentist billed, the discount, and amount to be paid by Delta Dental. An EOB allows us to communicate exactly what you are financially responsible for. You should never pay any more or any less than what is stated on the EOB.
If you need a little more help understanding EOBs, we've got you covered.
How to go Paperless with your EOB
In order to go to paperless with your EOB, you will need to sign in or create your online member account in our member portal. Once signed in, you'll find a tab at the top called "Health Resources." Then you can select to have your EOB sent to you electronically by clicking "Update My Preferences."
Sign in or register for your online member account.
Each year about 3.5 – 7 billion trees are cut down for a variety of uses and reasons, and one of those is making paper. By going paperless with your EOBs, we can work together and make an impact for our planet.
Looking for other ideas on how you can be greener with your oral health, including clever ways to reuse an old toothbrush? Read our article on going green with your dental routine.