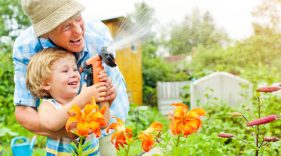 A balanced, nutritious diet is essential to healthy living and a healthy smile. Yet only 7.5% of Wisconsinites eat the daily recommended vegetable allowance, and less than 13% eat the recommended fruit allowance.

June is an important month for oral health, encompassing both National Smile Month and Smile Power Day. We're inviting you to get your hands dirty and help us #GrowWISmiles.
Ways to Participate:
Grow your portions – of fruit and veggies. The average daily intake for adults should be between 2 ½ to 3 cups of vegetables and 1 ½ to 2 cups of fruit. Find out your recommended daily servings by using the Choose My Plate
Some of our favorite veggies pack a punch when it comes to their nutritional value. Try and include a few every day:
Kale is among the most nutrient-dense foods on the planet. A single cup of raw kale delivers 684% of vitamin K, 206% vitamin A, and 134% vitamin C recommended daily values.
Peppers and broccoli both deliver over 100% of the daily value of vitamin C. This vitamin keeps gums healthy and protects against gingivitis, the early stage of gum disease.
Crunchy carrots promote saliva production which prevents dry mouth and are packed with vitamin A which helps strengthen enamel.
Leafy greens and cucumbers are full of vitamin K which produces a protein that supports bone strength and acts as a shield to block substances that breakdown teeth.
Help harvest – by growing your own fruits and veggies. And when you find yourself with too many zucchini and tomatoes…
Give back – your extra produce or your time. Many food pantries accept (and welcome) fresh produce donations! Commit to volunteering, even a few hours, at a food pantry or community garden; most rely on volunteers to help support their operations.
Spread the word – by sharing photos of your produce and volunteer efforts on social media with the hashtag #GrowWISmiles.
Delta Dental of Wisconsin will make a donation of fresh produce, toothbrushes, and a grant to purchase future fresh food to five food pantries in Wisconsin communities during the month of June. And our employees our helping us "Grow Wisconsin Smiles" by volunteering at area food pantries and community gardens with a shared vision of yielding more smiles in Wisconsin.
Comments
comments
Tweets
Poll
Loading ...
Categories
Archives
Latest Posts
DD Wisconsin Blog
delta
delta blog
Delta Dental
delta dental blog
Delta Dental of WI
delta dental of wisconsin
delta dental of wisconsin blog
dental benefits
dental blog
dental health
dental insurance
oral health
Wisconsin
wisconsin blog