Do Retirees Still Need Dental Coverage?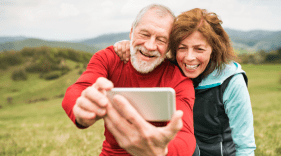 The average age for retirement fluctuates over time, but generally remains between the age of 63 and 66 years old. Seniors today are more active and engaged than ever before, and represent about 16% of the nation's population. In the next decade, that will jump to 20%. It's no secret that our family, friends, and neighbors are living longer, which makes dental care for seniors that much more important. If we're living longer, let's keep our teeth longer, too! To do that, you'll need to get informed on dental benefits after retirement.
One key to a happy retirement is a healthy retirement. Since employer-sponsored dental benefits come to an end when you retire from your job, seniors have good reason to brush up on benefits after retirement.
Although some retirees may be tempted to "do without," the toll that takes can be catastrophic on both on health and finances. Did you know seniors are at a higher risk of dental health complications, or that 16% don't have any natural teeth? See why benefits after retirement are essential to more than just your smile.
Why You Should Have Benefits After Retirement
Seniors often take a variety of medications that can cause dry mouth. A dry mouth isn't as harmless as you may think; it can lead to rapid tooth decay, gum disease, and tooth loss. Your gums, cheek lining, and tongue are impacted by a dry mouth, as well. If dry mouth is a concern for you, ask your dentist to recommend solutions like moisturizing mouth rinses. They can help improve the pH level for a more comfortable mouth. Be sure the pH of the dry mouth solution is a 6.7 or higher, since some solutions have been found to have a harmful, acidic nature. Additionally, if you use an inhaler, it's important to rinse your mouth afterward. This will prevent fungal infections from occurring.
Poor oral health can affect a person's ability to chew, speak, smile, and maintain adequate nutrition. In the long run, sustaining good smile health practices by going to the dentist will reduce sensitivity and inflammation of the gums, and increase your comfort level with your smile.
If proper dental health practices weren't always part of your past lifestyle, implants, partial dentures, or full dentures could be in your future. With an individual dental benefits package from Delta Dental, the cost of those procedures wouldn't fall solely on you. You'd also have access to benefits like a pre-treatment estimate and a large network of approved dentists.
Without regular dental care, many adults seek care in costly emergency departments. The ER can cost three times as much as a dentist visit. And the dentist gives you a toothbrush, too. Since 80% of dental-related ER visits are due to preventable conditions, why not take care of them in a dental office instead? One rule remains imperative: seniors still need regular dental care to protect their oral and overall health.
To buy individual dental insurance that's right for you, start off by evaluating your budget and your dental work needs. Educate yourself on the ever-changing dental insurance marketplace. Check out our plan offerings to see if one works for you.
Don't hesitate to contact us with any questions about taking the first steps to buy individual dental insurance.