The In-between Tooth: Guide to Bicuspids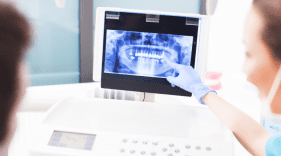 What are bicuspids?
Bicuspids, also known as premolars, are the teeth located between your canines (the pointy teeth located after your top and bottom front 4 teeth) and molars (back teeth). They are often referred to as transitional teeth, taking on properties of both the canines and the molars. Bicuspids get their name from their shape—"bi" meaning two, and "cusps" referring to the points on the crown of the tooth.
There are first and second premolars, so each person typically gets 8 of them, 2 in each quadrant of the mouth. Premolars are unique to adult teeth, and they typically erupt around age 12-13.
Why do we have bicuspids?
Bicuspids serve a dual purpose in the chewing and biting process, since they have traits of both canines and molars.
According to Dr. Fred Eichmiller, vice president and chief science officer for Delta Dental of Wisconsin, "bicuspids are some of the most interesting looking teeth in the mouth—simple yet elegant, and very useful. Hopefully no one loses a molar, but if one does, the premolar can help with grinding and cutting food. The front, or facial, surface, resembles a canine, but the biting, or occlusal, surface, is like a mini-molar."
Does everyone have bicuspids?
Historically, bicuspids (either the 1sts or 2nds, but not both) were extracted to make room for moving the rest of the teeth during orthodontics. According to Dr. Eichmiller, "Bicuspid extractions for orthodontic reasons was more common in the past, and while not eliminated, the need for and instances of extraction of bicuspids has decreased greatly more recently."
Care for your bicuspids by insuring them and visiting the dentist regularly for cleanings.