Breast Cancer Awareness Month: Your Gums Play a Part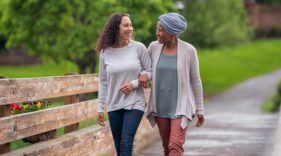 According to the American Cancer Society, breast cancer is the second most common cancer among American women, coming in only behind skin cancer. A huge percentage of women – 12% – in the US will develop breast cancer in their lifetime. The good news is that occurrence of breast cancer is declining, and there are more than 2.8 million breast cancer survivors living among us today.
Poor oral health is a risk factor for cancer.
Studies have shown that breast cancer and gum disease are closely related. The cycle of connection is certainly a tough one to break – a person suffering from poor oral health is more likely to develop breast cancer, while a person who is undergoing treatment for this cancer is vulnerable to dental problems.
A survey carried out by Journal of Breast Cancer Research and Treatment found that those suffering from chronic periodontal disease were more likely to develop breast cancer.
Breast cancer treatment can cause dental problems.
On the other hand, one-third of those being treated for breast cancer are prone to dental health problems. It is highly recommended to visit the dentist before undergoing cancer therapy. Chemotherapy, which is a common treatment to kill cancerous cells, also affects healthy cells. The treatment may cause dryness of the mouth, sore and inflamed tissues, cavities, bleeding gums, and decreased saliva flow. Pre-existing conditions are expected to worsen during treatment; if possible, try to resolve all dental problems before chemotherapy.
So how do you maintain good oral hygiene and reduce your risk of breast cancer?
Regular brushing and flossing and annual visits to your dentist will help keep your gums healthy. A healthy mouth will have reduced bacteria inside the mouth and help to prevent gum disease. During breast cancer treatment, maintaining good oral hygiene is a must to avoid dental infections since the immune system is reduced. Treatment should be in coordination with one's physician, dentist, and oncologist.
Looking for more on the oral and overall health connection? Check out: