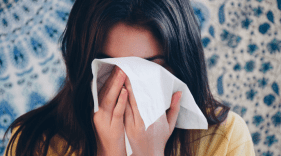 The season of germ sharing is well underway. If your household is like most, it is a domino effect with colds passing between children and parents. From the sniffling, sneezing, and runny nose, you may also experience another common cold side effect, teeth pain. If you find yourself asking, "why do my teeth hurt when I have a cold?", here's the scoop.
Sinuses are air chambers that rest behind your cheeks, eyebrows, and jawbones. They have tiny hairs ("cilia") inside them, which help clean out mucus and keep air chambers free of debris. When you get a cold, the chambers can get blocked with excess mucus. The bacteria begin to spread, which often results in illness. Since one of the air chambers is located above and behind the upper jaw, it can cause what seems like a serious toothache when in fact it is just sinus pain. 
Other illnesses that may be the root of all of your (tooth pain) evil:
If your tooth pain continues after your cold is gone, you may have a dental problem. Make an appointment with your dentist if your tooth pain persists.
Comments
comments
Tweets
Poll
Loading ...
Categories
Archives
DD Wisconsin Blog
delta
delta blog
Delta Dental
delta dental blog
Delta Dental of WI
delta dental of wisconsin
delta dental of wisconsin blog
dental benefits
dental blog
dental health
dental insurance
oral health
Wisconsin
wisconsin blog