Cost Considerations | Restorations and Dentures for Older Adults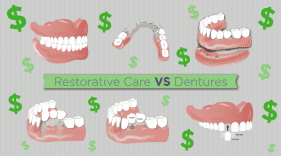 Considering the cost of dentures, restorative care, and dental care for older adults? You're in the right place. Dental care costs for adults over 65 depend mainly on two things: oral health and dental coverage.
We're now seeing first-hand that dental care, not just age, determines the health of our teeth. Studies indicate that people with dental coverage are more likely to visit the dentist. So, if you or someone you love is approaching retirement age, learn about dental care and coverage for older adults.
Dental Care Coverage Options for Older Adults
Half a century ago, total tooth loss was three times more common than it is today. The dawn of preventive dental care has made it possible for us to keep our natural teeth for a lifetime. Therefore, the current rate of tooth loss is the lowest it has ever been in the United States. Now that we're keeping our teeth longer than ever before, what coverage options are there to support the older adults' dental care?
Medicare doesn't cover routine dental care. Today, basic Medicare only covers select dental procedures:
An oral exam in the hospital for a kidney transplant
An oral exam before a heart valve replacement
Certain radiation treatments or other procedures related to cancer or facial tumors
Medicare also covers some dental-related hospitalizations. For more extensive coverage, Medicare Advantage may be an option. Remember that there are waiting periods when signing up that can range from 6 to 24 months, depending on the extent of the procedure.
Some Medicare Advantage Plans provide coverage for routine dental services though coverage can vary widely from plan to plan and state to state. If you have a Medicare Advantage Plan, contact your plan to learn about covered dental services. Dental coverage providers like Delta Dental contract with Medicare Advantage Plans.
Individual Delta Dental Plans for Older Adults
Individual dental plans will give you the best coverage for maintaining good preventive care. That means instead of waiting for a toothache, you or your loved one should:
See the dentist regularly
Follow the proper daily routine
Eat a balanced diet
Older adults today are receiving much more restorative and preventive care than even 50 years ago. With dental coverage and visiting an in-network dentist for care, you or your loved one can restore smiles for a fraction of what it would cost without insurance.
The American Dental Hygienists' Association estimated that for every $1 spent on preventive dental care, we save between $8 and $50. Preventive care prevents us from needing more expensive restorative or emergency procedures. Dental coverage maintains a healthy mouth and stops problems from developing – or worse, going unnoticed.

We used FAIR Health Consumer to document the cost of common procedures when you don't have dental coverage:

Don't forget about the cost of upkeep! As dentures and other dental appliances are used, they get worn down. This means they require repair or replacement over the years, which most of our plans cover.
When dental appliances aren't maintained, they end up not fitting correctly. Dental appliances including dentures or bridges can improve a patient's:
Chewing comfort
Chewing ability
Eating enjoyment
Food choices
Security
Speech (after each denture modification, and with new dentures)
The best way to save money on your mouth? Practice a good oral health routine every day. Neglecting to care for appliances or restorative care ends up being more uncomfortable and costly for you.
Click here for advice on proper denture care.
Click here for advice on dental care for older adults.
Delta Dental's comprehensive oral health coverage protects the smile – and the health – of people 65 and older. We offer:
Up to 100% coverage available for preventive and diagnostic care
Discounts on restorative treatment provided by Delta Dental PPO dentists (depending on your plan)
No waiting period for care when transferring over from another qualifying dental plan
More dentists to choose from courtesy of the largest nation-wide network
No administrative hassles – the dentist takes care of the paperwork
Added member protections when seeing an in-network provider including treatment guarantees and no balance billing
We have a broad network of dentists who accept our benefits. We contract pricing with our dentists so you never have to worry about negotiating or not knowing costs. Click here to check out our Delta Dental Cost Estimator. Input your zip code for a cost estimate of a procedure before you even set foot in a dental office.
Don't have a plan yet? Learn more about getting dental benefits.
Looking for more on dental care for older adults? Click here to read:
Tags: