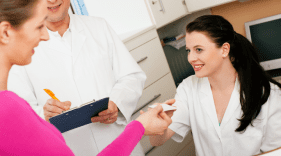 If you misplaced your Delta Dental insurance card, don't worry. Your online account hosts several resources, including an online version. Here's how you can access yours:
To access your ID Card:
1. Visit deltadentalwi.com/member
2. Login with your Username & Password
3. Select 'My Benefits'
4. Click on the link to your 'ID Card'
Do you always need your Delta Dental insurance card?
No—tell the dentist office that you are covered by Delta Dental of Wisconsin and provide your name and birth date. If you have insurance through an employer, mentioning their name is also helpful. They will be able to look up your information on our website for dentists and send us a claim.
Does it matter if I have coverage through my employer or if I purchased individual or family dental insurance from Delta Dental?
Yes. If you have dental insurance offered through an employer, you can access your online account through our Member Connection found on our website, DeltaDentalWI.com. If you purchased an individual or family dental plan directly from Delta Dental, visit DeltaDentalCoversMe.com. There, you'll be able to access more features like online bill payment along with accessing your Delta Dental insurance card.
Comments
comments
Tweets
Poll
Loading ...
Categories
Archives
DD Wisconsin Blog
delta
delta blog
Delta Dental
delta dental blog
Delta Dental of WI
delta dental of wisconsin
delta dental of wisconsin blog
dental benefits
dental blog
dental health
dental insurance
oral health
Wisconsin
wisconsin blog