Dental Hygienists vs. Dental Assistants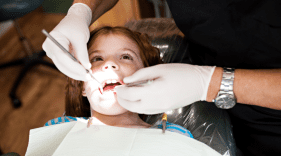 Both dental assistants and dental hygienists are important parts of a dental office. Dental assistants often work as an aide to the dentist, while dental hygienists often work one-on-one with patients. Learn more about these two professions.
Dental Hygienists vs. Dental Assistants
Dental Hygienist
A dental hygienist is often the person you spend the most time with during your regular checkup. He or she works with the dentist to make patient plans, but also performs job duties independently.
State law varies, but hygienists are typically responsible for:
Removing plaque and tartar from teeth
Polishing teeth
Applying sealants and fluoride treatments
Oral cancer screenings
Taking dental X-rays
Educating patients on proper dental hygiene techniques
Making impressions of teeth
Dental hygienists can receive their education from universities, community colleges and/or technical colleges. After completing their degree, hygienists take a licensure exam, which enables them to work in a dental office. Though dental hygiene programs vary by school, the Commission on Dental Accreditation (CODA) is responsible for accrediting all of them.
Dental Assistant
A dental assistant is a hands-on member of the dental office, working very closely with the dentist.
Some duties of a dental assistant include:
Assisting the dentist during procedures
Taking X-rays
Preparing and sterilizing equipment
Providing oral care instructions after procedures
Teaching patients proper dental hygiene techniques
Communicating with patients and office suppliers
Dental assistants can receive their education from community colleges, vocational schools, technical institutes, universities or dental schools. CODA accredits dental assisting programs too. Most dental assistants become nationally certified through the Dental Assisting National Board's (DANB) Certified Dental Assistant exam.
The biggest link between dental hygienists and dental assistants? They're both essential to a successful dental practice.