Dental Technology: The Past, Present & Future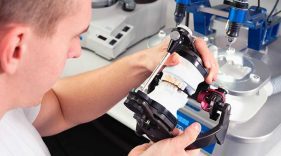 The first nylon bristle toothbrush was put on the market less than 80 years ago. That means people were driving cars before they were using an effective toothbrush.
Fortunately, dentistry has come a long way in the last century. New technology allows dentists to treat patients faster and more effectively.
Look how far we've come:
Digital X-Rays:
If you've had dental X-rays recently, you may have noticed a change from the traditional film X-ray. Many dental professionals are using new and improved digital X-ray machines.
Digital imaging uses highly sensitive receptors that require significantly less radiation exposure than film. Dental professionals benefit from using digital X-rays too. The computerized pictures allow them to see the condition of your teeth in greater detail. Digital X-rays are a time saver – they take less than half the time to develop compared with film X-rays.
Dental Lasers/Laser Dentistry:
When we think of lasers, we're more likely to think of sci-fi and Star Wars. Lasers are now common in the dental world and have a number of uses.
Laser technology cuts down on patient pain and can be used to treat an array of dental problems. The intense beams of light aid in cavity and ulcer removal, and can be used to operate on gums.
CAD/CAM Technology:
CAD/CAM stands for computer-aided design/computer-aided manufacturing. This technology creates digital impressions for crowns and implants. CAD/CAM technology allows dentists to make a replacement tooth in a single visit.
What's next?
A future without dental decay? It may be possible thanks to a Delta Dental of Wisconsin-supported research company. Early research has shown Specifically Targeted Anti-Microbial Peptides (STAMPs) placed in a tooth paste or gel significantly reduced the amount of cavity-causing bacteria with one application.
Clinical trials are currently underway in the United States. If the next round of clinical trials are successful, STAMPs will be the first new anti-cavity drug introduced in nearly 60 years.
Delta Dental is trying to make a difference in Wisconsin and around the world by creating a very bright future filled with healthy smiles.