Developing the Next Generation of Dental Pros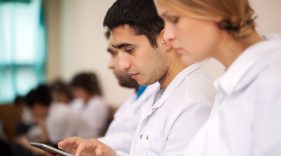 The universe of dental knowledge and science is always expanding – and that's a good thing. Today's dental programs focus on innovation, providing opportunities for future dentists, dental hygienists, and dental laboratory technicians to advance the field and provide the best care to patients.
Check out these schools advancing the field:
The Dental Institute at King's College London
This top dental school in Europe integrates education with research and clinical experience – which provides care for more than 300,000 patients each year! This experience complements the school's teachings and ensures graduates have the skills they need to provide care the moment they start practicing.
Marquette University Dental School
Rural areas face unique challenges when delivering dental care, as there are half as many dentists per 100,000 people when compared their urban counterparts. Marquette University Dental School works to expand the student body to serve these underserved rural populations. With the help of Delta Dental of Wisconsin's Charitable Fund, the school offers two fellowships that provide training and first-hand clinical experience meeting the oral health needs of rural communities. Located in Wisconsin, Marquette holds a special place in our heart, helping deliver a dental workforce that will help keep our state smiling for generations to come.
Midwestern University's Arizona Campus
Midwestern University's Arizona campus offers hands-on clinical education. The school partners up third- and fourth-year students to work together clinically for a year. One serves as the dental care provider and the other as a chair-side assistant, switching as work dictates. When the fourth year student graduates, his or her third year partner is paired with a new student, and the team continues to serve the same group patients in the year ahead.
If you are interested in getting into the dental fields, learn more about these and other programs.
Comments
comments
Tweets
Poll
Loading ...
Categories
Archives
DD Wisconsin Blog
delta
delta blog
Delta Dental
delta dental blog
Delta Dental of WI
delta dental of wisconsin
delta dental of wisconsin blog
dental benefits
dental blog
dental health
dental insurance
oral health
Wisconsin
wisconsin blog