Get Crafty with Extra Toothbrushes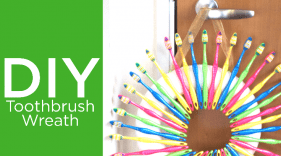 As a dental practice, it's standard to have a surplus of toothbrushes around the office. Add some holiday cheer to your practice with this colorful wreath:
Materials:
Cheap Colorful Toothbrushes (Between 30-60, depending on wreath size.)
Styrofoam Wreath
Wire Ribbon (Strong enough to bear weight)
Hot Glue Gun and Glue
Stickers, bows and other decorations (optional)
Instructions:
Lay out toothbrushes in a desired pattern, making sure that you have enough toothbrushes to cover the entire wreath
Use the hot glue gun to glue each toothbrush to the wreath, one-by-one.
When all toothbrushes are in place, flip the wreath over and glue the ribbon onto the back, making a loop.
Add stickers, bows and other decorations, if desired.
Show us your finished product by tagging us on
Facebook
and
Twitter
!
Comments
comments
Tweets
Poll
Loading ...
Categories
Archives
DD Wisconsin Blog
delta
delta blog
Delta Dental
delta dental blog
Delta Dental of WI
delta dental of wisconsin
delta dental of wisconsin blog
dental benefits
dental blog
dental health
dental insurance
oral health
Wisconsin
wisconsin blog