A Guide to Your Baby's First Teeth [INFOGRAPHIC]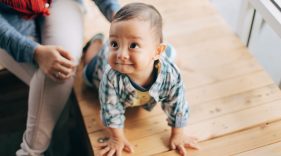 From steps to words, there are so many "firsts" for new parents to look forward to—including baby's first tooth. Here's a guide as their grins grow:

As baby teeth develop, keep these tips in mind:
• Cleaning baby teeth is different than cleaning baby gums. You will want to upgrade from a damp washcloth to a soft toothbrush. Once your baby's teeth begin to arrive, you can use fluoridated toothpaste, but keep the amount to about the size of a rice grain. At age three, the amount of toothpaste can be increased to the size of a pea.
• Schedule their first dentist appointment by age one or within six months of their first tooth arriving.
• Baby teeth will stop growing around age three before adult teeth take their place. Refer to this guide for when that first tooth is lost.
Taking care of your baby's teeth at home is an important step to laying the foundation for healthy adult teeth.