A Healthy Mouth Can Lower Your Likelihood for Health Issues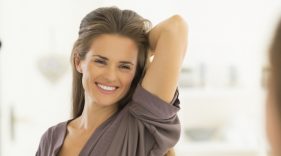 There's more to a healthy mouth than just a sparkling smile. Your dental health is directly connected to your overall health. Learn how healthy oral health habits can reduce your risk of these 3 health complications:
1. Stomach Ulcers
Poor oral hygiene can lead to gum disease, resulting in bacteria and plaque buildup. One type of bacteria in particular, Helicobacter pylori, is responsible for causing stomach ulcers. This type of bacteria is more present in people with gum disease.
2. Heart Disease
Chronic inflammation from gum disease has proven to be associated with heart disease. Studies show that up to 91% of patients with heart disease have gum disease too. Inflammation in the mouth caused by gum disease has also been associated with inflammation in the heart's blood vessels, and this could lead to less blood to travel to the heart. Other factors such as smoking, diet, and weight are associated with gum and heart disease.
3. Respiratory Infections
A healthy mouth can help keep your lungs strong. Bacteria in your mouth can increase the amount of bacteria in your lungs. Respiratory infections such as pneumonia or bronchitis are caused when bacteria from the throat is inhaled into the lower respiratory tract. A study published in the Journal of Periodontology found that among people hospitalized with respiratory infection, those with gum disease had worse infections than those who did not have gum disease.
What Can I Do?
Preventive oral care is the best way to prevent gum disease and other oral and overall health issues. Remember to brush twice a day for at least two minutes with fluoridated toothpaste, floss daily, and see the dentist regularly.
Enhanced Benefits Program
While poor oral hygiene can cause other health issues, pre-existing issues such as diabetes, cancer, or cardiac conditions, can increase your risk of getting gum disease or cavities. Find out if you're eligible for enhanced dental benefits.
Comments
comments
Tweets
Poll
Loading ...
Categories
Archives
Latest Posts
DD Wisconsin Blog
delta
delta blog
Delta Dental
delta dental blog
Delta Dental of WI
delta dental of wisconsin
delta dental of wisconsin blog
dental benefits
dental blog
dental health
dental insurance
oral health
Wisconsin
wisconsin blog