Low Maintenance Mouth Still Need Dental Coverage and Preventive Dentistry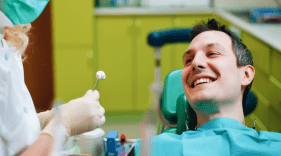 A history of healthy teeth can get you wondering why you need dental insurance. There are a few reasons you may not know. To put it simply, when you have dental coverage, you're more likely to:
Save money
Save time
Stay healthy
Did you know that research has linked your oral health to your overall health and wellness? Many diseases also do the reverse and impact your oral health. There's a definite cause-and-effect relationship our mouth has with our body. Use this as a major motivator to practice the best oral health habits you can. Having routine access to dental care allows your dentist to monitor how your oral health is progressing. Dentists have a history of identifying major health concerns in their patients.
For this reason, we sometimes refer to dental care as "preventive dentistry." Preventive care means that you're visiting your dentist regularly (at least once every 12 months). Brush daily for two minutes in the morning and at night, and floss daily. This keeps plaque, tartar, and infections like gingivitis at bay. So does your dentist! A dental visit gives you more than a brighter smile; you leave knowing your mouth is healthy and with less cavity-causing bacteria.
You'll Be More Likely to Take Care of Your Teeth
When you have dental coverage, you're  more likely to visit the dentist. Preventive dental care differs from how we treat our medical care. When we get a rash or break a bone, we see a doctor to fix it. But with dental care, a preventive approach is better. If we take care of our teeth daily, we don't have to experience tooth loss, tooth decay, or maybe even cavities.
Eighty-one percent of individuals with dental benefits reported seeing a dentist twice a year or more. This drops to 34% for uninsured individuals.
You're More Likely to Take Your Children to the Dentist
Children with dental coverage are more likely to visit the dentist at an earlier age. Did you know you're supposed to see the dentist by the age of 1? This can help instill proper oral health techniques and prevent cavities. In a Delta Dental study, the average insured child saw a dentist at 2.5 years old. Uninsured children averaged around 3 years old.
You'll Experience Better Health and Happiness
People who visit the dentist more often have better oral health. If you have dental insurance, you're also more likely to opt for restorative and "tooth-saving" procedures. These include fillings, crowns, and root canals. And that means you're well on your way to keeping your teeth longer. Studies prove that older adults with natural teeth have a better quality of life. They also have more self-confidence than those who have lost teeth.
Dental coverage is a significant factor in overall well-being: Americans who have dental coverage are 14% more likely to report high overall well-being than those without.
You'll Save Money
Dental benefits are essential to a healthy lifestyle. They allow for consistent preventive dental appointments. The American Dental Hygienists' Association estimated that for every $1 spent on preventive dental care, we save between $8 and $50. That's because it prevents more expensive restorative or emergency procedures.
Even if you've never ever had a cavity, dental coverage is the right choice. It maintains a healthy mouth and prevents problems from developing – or worse, going unnoticed. Having a large network of dentists through a trusted provider like Delta Dental saves your smile, health, and wallet.
As the nation's largest dental insurance provider, Delta Dental has an extensive network of dentists for you to choose from.
For information on what's included in your plan, click here. Don't have a plan yet? Learn more about getting dental benefits.
Want more? Check out:
*Updated May 2019