Pediatric Dental Benefits: Procedure Categories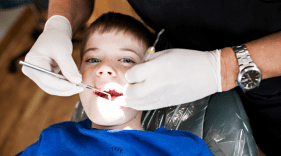 You've found a dentist and you're ready to take your child to his or her appointment. Now, how do you determine what pediatric dental benefits apply to this visit, or future visits?
Once you learn how children's dental procedures are categorized*, you'll have a better idea of how they'll work with your coverage.
Most plans are designed with kids in mind, which means pediatric dental benefits are usually part of your coverage. They're typically divided into categories and may include:
Preventive
Services including routine oral exams, X-rays, cleanings, sealants, space maintainers, and fluoride varnish treatments help identify and prevent early dental issues.
Basic
These services go beyond preventive measures—they're focused on correcting minor issues. Treatments can include fillings for cavities, preventive resin restorations, pulp therapy, and extractions.
Orthodontia
Orthodontia (including braces) may be included with your employer-sponsored plan, most commonly for children up to age 19. Orthodontia helps fix crooked teeth, overbites, and some jaw-joint disorders. Crooked and crowded teeth can make it hard to reach certain areas when brushing and flossing. Over time, this can lead to tooth decay and more common with adults, gum disease and tooth loss.
Not sure what your plan covers for your kids? Log in to your account to view your plan's coverage for pediatric dental benefits, or request your dentist submit a predetermination of benefits before treatment.
*Treatment categories and coverage may vary by dental plan
Comments
comments
Tweets
Poll
Loading ...
Categories
Archives
DD Wisconsin Blog
delta
delta blog
Delta Dental
delta dental blog
Delta Dental of WI
delta dental of wisconsin
delta dental of wisconsin blog
dental benefits
dental blog
dental health
dental insurance
oral health
Wisconsin
wisconsin blog