Pediatric dentist vs. general dentist: The right choice(s) for your family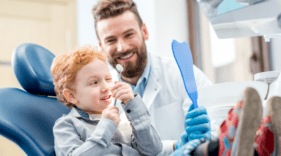 They go to school, and you go to work. You drive the car, and they ride in it. You and your kids do different things, but do you need different dentists? If you are not sure whether you need both a pediatric dentist and a general dentist, this article can help you decide!
Pediatric Dentists vs. General Dentists
Although pediatric and general dentists have the same goal in mind – to promote and enhance oral health – there are many differences between the two when it comes to training, the patient demographic, and experience.
Training: Pediatric dentists have an additional four years of dental school plus two to three years additional training. This specialized schooling focuses on areas of study such as child psychology and development.
Patients: General dentists treat patients of all ages, while pediatric dentists only see children.
Experience: Because pediatric dentists exclusively work with pint-sized patients, they are well versed in interacting with infants and children with special needs. They also provide counseling for habits like thumb-sucking and extended pacifier use.
When to see a pediatric dentist
For some families the addition of a pediatric dentist may make visits to the dental office less stressful. This is because pediatric dentists tend to have special tricks to make the experience fun. We recommend using a pediatric dentist if:
Your children have dental anxiety. Pediatric offices are designed with kids in mind. They are often decorated with bright, fun colors and have toys available to play with. This alone can make an anxious child feel more at ease.
Your child has special needs. For example, if your child has autism, Down syndrome, cleft palate, or any other special need condition, a pediatric dentist will have the experience to make the visit comfortable.
A general dentist will not see a young child. In some cases, a general dentist may not feel comfortable treating a young child. If this is the case for your family, it is important to see a pediatric dentist.
When to have a general dentist for the entire family
Many times, families choose to have one dentist for the entire family. This is perfectly acceptable! A single dentist for your family may make sense if:
Your family has a longstanding relationship with a specific dentist. Years of knowing each other will help all members of the family feel at ease when they see the dentist.
Your family has older children. Tweens and teens are more patient than little kids. They know what to expect and are open to new environments.
Convenience is important. If it is easier for you to gather the entire family to go to the dentist at one location, seeing a general dentist makes the most sense. If you are more likely to make regular appointments at one dental office than a pediatric office, go with the general office.
Oral health is the goal
Deciding to use a pediatric dentist for your children or a general dentist for the entire family is a personal decision. Both dentists will provide excellent care and keep your mouth healthy. The most important thing is to have all members (even babies and toddlers) see the dentist regularly.