The Sun and Our Vision | Prevent Eye Damage from the Sun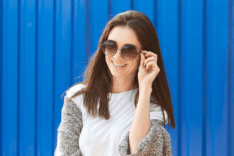 *Updated July 2023
When you step outside or look out a window, you probably aren't thinking about how the sun is impacting your vision. Even when it's hiding behind clouds, the sun's ultraviolet radiation, or UV rays, can damage our eyes. The sun's UV rays are the main cause of skin cancer, but they also cause sunburns, premature aging, and eye damage.
Protecting your skin and eyes from damaging UV rays is important whether you spend a lot of time outside or not. Keep reading to learn the best ways to protect your vision for years to come.
Eye damage from the sun
Any time you are outside, whether it's summer or winter, your eyes can experience damage from the sun. Prolonged exposure without proper protection can lead to eye problems including:
How to protect your vision from sun damage
The best way to protect your eyes and vision from sun damage is to take preventive measures, especially when outside. Here are some simple ways to protect your eyes:
Wear wide-brimmed hats.
Wear sunglasses with UV-blocking lenses.
Avoid being outside when the sun is the strongest.
Never look directly at the sun.
Encourage children to wear hats and sunglasses while outside.
Apply sunscreen on the skin around your eyes.
If you have a concern about your vision, click here to find a vision doctor near you.
Looking for more ways to take care of your vision? Check out What Vision Correction Option is Right For You?