Preventive Care & Your Dental Plan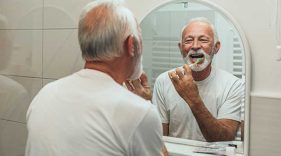 You know it's important to brush, floss, and eat healthy. But did you also know regular visits to the dentist not only prevent serious oral health problems, they can also help detect problems early – when treatment is easier and more affordable for you?
See your dentist regularly.
Most plans cover dental cleanings once every six months, allowing your dentist to check your mouth's health on a routine basis. During this exam, you may also receive X-rays. Typically, your dentist will start with a full mouth X-ray, then follow up with bitewing X-rays when needed.
If you have children, ask your dentist about a kid-friendly preventive procedure – dental sealants. Sealants are placed on the chewing surfaces of back teeth (molars) and act as a barrier to help prevent cavities.
Another beneficial preventive treatment for kids is fluoride. Generally applied as a gel or varnish, fluoride is often called nature's cavity fighter.
Follow these oral health tips for a healthy smile:
See a dentist regularly
Brush your teeth twice each day and floss at least once a day
Maintain a healthy diet
Drink plenty of water
Limit snacking on sugary or starchy foods.
When you stay healthy and practice good oral hygiene, your teeth can last a lifetime.