Seal-A-Smile: Extending Access and Preventive Care for Wisconsin Children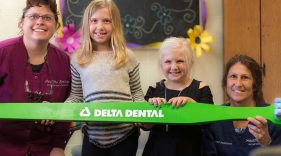 Wisconsin is fortunate to have one of the most comprehensive school-based sealant programs in the country. Delta Dental of Wisconsin has been partnering with the State to jointly fund Seal-A-Smile, which is collaboratively administered by Wisconsin Department of Health Services and Children's Health Alliance.
Wisconsin's Seal-A-Smile program gives children, who may not otherwise have access, the opportunity to receive oral health education, preventive fluoride treatments, and sealants from a dental professional in a school setting.
A sealant is a protective coating on the tooth that seals the biting surface from bacteria and helps prevents tooth decay. Learning about dental health and oral care at a young age instills positive habits for a smile-filled future.
An aggravated oral health issue can leave children uncomfortable, irritated, and unable to concentrate in school. One in five children in Wisconsin has untreated dental disease.
What makes Seal-A-Smile so great? See for yourself.
• This program is one of the most widespread school-based sealant programs in the nation with programs across 61 out of 71 counties in Wisconsin.
• More than 22,000 children received dental sealants through the Wisconsin Seal-A-Smile program during 2012-13.
• Dental sealants prevent cavities on the teeth's chewing surfaces by more than 70 percent.
• The untreated tooth decay rate for third graders in Wisconsin has decreased from 33 percent to 18 percent since 2003.
Delta Dental of Wisconsin is proud to keep children smiling with one of the strongest public-private partnership programs protecting children's oral health.