Smile, employers! There are ways to create a more positive workplace.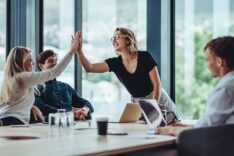 Do you help make your employees smile? Happy workers make for a more successful business. When workers feel respected and valued, they're more likely to be happy and engaged.
Workplaces that lack a positive atmosphere have higher absenteeism, more accidents, increased errors and defects, decreased productivity, and lower profitability. Additionally, research has found that employees are dealing with more mental health issues such as increased feelings of anxiety, panic attacks, and depression, particularly in the post-COVID era.
Taking care of employees is the best thing businesses of any size can do to make sure they are successful. Therefore, we've compiled some of the top ways to create and maintain a more positive workspace – essential for businesses and their employees. Try implementing some or all of the recommendations below to see more smiles in the office.
1. Make employees feel valued.
Employees care about more than just their salary. In fact, 88% of job seekers give "heavy consideration to better health, dental, and vision insurance benefits when choosing their job" according to a survey by FRACTL. By offering an attractive benefits package that addresses their additional needs and wants, you can help reduce their stress and increase their happiness. Strong medical, dental, and vision benefits are the most valued benefits by job seekers. And, of course, dental coverage will help employees keep a healthy smile that they will love to show off.
2. Embrace work/life balance
The COVID pandemic required employees who typically worked in offices to work from home. During this time, employees began to embrace a solid work/life balance they had never experienced before the pandemic. Now, nearly three years after the start of the pandemic, employees have grown to appreciate the flexibility of working remotely. Businesses who embrace a strong work/life balance, and offer flexible hours and remote work options tend to have happier employees compared to those who are requiring full-time in-person workplaces.
3. Give employees a voice.
Gather feedback on your benefits program to make sure employees know you are listening and working to make sure your benefits — including your dental plan — are meeting their needs.
4. Do little things that make a big difference.
Recognize accomplishments often. Companies who have formal recognition programs have 31% less voluntary turnover compared to those with no programs. Celebrate a job well done and goals that are met by individuals and teams. Smaller, more frequent, positive feedback and rewards have been proven to keep employees happier than large but less frequent events.
Another simple way to show appreciation in the office? Keep employees happy and protect their smiles by stocking plenty of healthy, smile-friendly snacks around the office. Low-sugar yogurt, almonds, and crunchy fruits and vegetables like apple and carrots are all great choices.