'Tis the Season for Crafts: DIY Holiday Gifts for All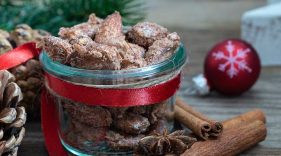 December is here, and the third is Make A Gift Day! Crafting can be therapeutic, so try channeling your holiday stress into a creative craft. Loved ones always enjoy presents filled with (your) presence. Here are some dental-inspired DIYs for every one on your list.
The Foodie: If you have a friend who loves gourmet, whip up a batch of cinnamon sugar almonds. They're loaded with tooth-healthy protein, vitamin E, and fiber. Use mini cellophane bags and ribbon for extra holiday cheer.
The Naturalist: Concoct a minty peppermint mouthwash, made using 100% natural ingredients. Store the refreshing rinse in a reusable glass vessel, and voila­ — your gift is ready to be received.
The Makeup Maven: Make a moisturizing lip balm for the makeup-minded gal. This recipe only contains a few ingredients, so it's simple to customize the flavor and scent. Soft lips are the perfect complement to any healthy smile.
The Super Mom: Try your hand brush at a kid-themed bathroom sign. Moms likely get tired of repeating variations on the daily spiel, "Wash your hands. Brush your teeth!" Hopefully an encouraging bathroom sign will help to give your favorite mom a break.
Happy Make A Gift Day, but most importantly, happy crafting!