UV Safety Month: Don't Overlook Oral Health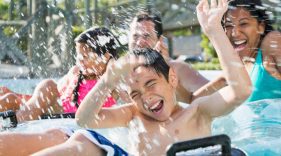 It's UV Safety Month – a great time to remember that it's essential to protect skin from the sun's rays. When you're outside this summer, remember to apply sunscreen to an often-overlooked part of the body: your lips. In fact, 63 percent of sunscreen users don't protect their pout.[1] Sun exposure to lips can increase your risk of oral cancer.
The skin on your lips is delicate and requires protection. Before you spend the day in the sun, apply an SPF 30 lip balm or lip sunscreen alone or under lip gloss. Because hydrated lips allow UV rays to penetrate the sensitive skin, it's important not to wear lip gloss alone. Look for an SPF with broad spectrum coverage, which protects lips from both UVA and UVB rays.[2] Like other sunscreens, remember to reapply every couple of hours.
While you are spending time with your family by the pool, also watch out for these potential oral health risks:
Chlorine exposure. Chlorine is added to pool water to protect us from harmful bacteria – but pools with too much chlorine contain pH levels that can cause enamel erosion if your teeth are exposed to too much of it. Some studies show the connection between improperly chlorinated pools and tooth damage.[3] You likely don't have to worry at your local pool – most monitor pH levels on a regular basis. Teach your little ones to keep their mouths closed as much as possible while swimming.
Pool accidents. Swimming is a lot of fun – which is why kids tend to run around the pool area with excitement. Running on wet concrete is a slippery slope to a chipped tooth. Kids could also bang their faces against pool walls or floors when swimming underwater or horsing around with friends. Remind your kids of these pool rules to prevent dental injuries: Don't run, don't dive into shallow pools, and don't rough house in the water.
Have fun and enjoy your time in the sun this summer – and don't forget to keep emergency dental information on hand in case of an accident.
[1] http://www.parents.com/parenting/moms/healthy-mom/sun-safety/
[2] http://www.everydayhealth.com/skin-and-beauty/sunscreen-mistakes-that-hurt-your-skin.aspx
[3] http://www.colgate.com/en/us/oc/oral-health/life-stages/adult-oral-care/article/the-effects-of-chlorine-on-your-teeth-1215