What is cosmetic dentistry?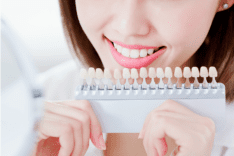 If your smile doesn't make you feel confident, your quality of life can be negatively impacted. This is where cosmetic dentistry may help. Millions of people turn to cosmetic dentistry each year to improve their smile and self-esteem. Keep reading to find out what cosmetic dentistry is and if it's a good option for you.
What is cosmetic dentistry?
According to the American Academy of Cosmetic Dentistry (AACD) cosmetic dentistry is "aimed at creating a positive change to your teeth and your smile…cosmetic dentists strive to maintain a patient's health, function, and appearance for their lifetime."
Basically, cosmetic dentistry enhances the appearance of your smile through procedures such as teeth replacement, teeth whitening, orthodontic treatments, and more. Cosmetic procedures can be done for medical reasons or as elective treatments for patients who are self-conscious of their smile.
Types of cosmetic dentistry procedures
Cosmetic dentistry is an umbrella term for various procedures that are meant to improve and enhance your smile. Your oral health team will work with you to decide which cosmetic procedures are the best fit to achieve your smile goals.
Common cosmetic dentistry procedures:
Cosmetic teeth whitening
If you are self-conscious of stains or discoloration on your teeth, a tooth whitening procedure may be a good option. These procedures can be done in your dentist's office or in your home, depending on the treatment. Typically, treatments performed in the dental office are more invasive than at-home alternatives. However, they are usually more effective and faster at whitening your teeth.
Cosmetic dental implant
Missing teeth are one of the biggest reasons people choose not to smile. Cosmetic dental implants can help fill the gap and replace a missing tooth or teeth. During a procedure, a metal implant is placed in the jawbone to act as a "root" for an artificial tooth. Once the implant is secured in the jawbone, it's used to anchor artificial teeth. For more information, read our blog about dental implants.
Cosmetic teeth reshaping
If you have a tooth or teeth that are misshapen, chipped, misaligned, or cracked, it's easy to be self-conscious of your smile. Teeth reshaping is often less expensive than other procedures such as crowns or bridges. During a tooth reshaping procedure, a dentist will painlessly remove some enamel from the affected tooth and then shape and lengthen as needed. In some cases, tooth-colored resin may be applied to achieve a desired shape.
Cosmetic dental veneers
Cosmetic dental veneers are a great option for patients who have chipped, discolored, crooked, or uneven teeth. Dental veneers are a thin tooth covering (sometimes called shells) made from porcelain or composite materials that appear very natural. Veneers are custom fit to each patient before getting applied to the front of a tooth with cement. Once the veneers are set, the patient can return to normal activities the same day.
Cosmetic orthodontic treatment
Although braces are usually associated with young patients, cosmetic orthodontic treatment for adults is becoming more popular. For adults who have buck teeth, cross bites, or generally crooked teeth, braces may be a good option to straighten their smile. Braces have come a long way from the traditional metal type and people are often surprised at how comfortable they can be. Orthodontic treatments take the longest time to complete, but they can completely change the look of your smile.
Is cosmetic dentistry covered by dental insurance?
One of the most common questions people have about cosmetic dental procedures is whether they will be covered by dental insurance. The short answer is: it depends.
Most dental insurances will not cover cosmetic dental procedures if there is no medical reason to have them done. However, if a cosmetic procedure is medically necessary due to an accident, disease, or to fix a patient's bite, dental insurance may cover some, most, or all of the cost.
It's important to contact your dental insurance provider before proceeding with cosmetic dentistry procedures to verify whether it will cover costs or not. Cosmetic dentistry can be very expensive, so going over your benefits should be the first step before scheduling a procedure.
Who performs cosmetic dental procedures?
Cosmetic dentists and prosthodontists are both able to perform cosmetic dentistry procedures. However, there are significant differences between the two specialties.
Cosmetic dentists are usually general dentists who have completed specialty courses in cosmetic dentistry. Cosmetic dentists generally perform procedures such as whitening, dental veneers, crowns and bridges, and some dental implants.
Prosthodontists are specialists that are recognized by the American Dental Association. They must complete an additional three to four years of training after graduating from dental school and are considered experts in restorative treatments. Prosthodontists take on the most challenging cosmetic cases. They can do all the cosmetic treatments a cosmetic dentist does plus temporomandibular disorders, which affect the jaw or muscles controlling the jaw. These can include jaw injury, arthritis of the jaw, clenching and grinding teeth, and more.
For more information about cosmetic dentistry coverage be sure to contact your dental insurance provider.
To learn more about cosmetic dentistry procedures, check out "What to expect during a dental implant procedure."
Comments
comments
Tweets
Poll
Loading ...
Categories
Archives
DD Wisconsin Blog
delta
delta blog
Delta Dental
delta dental blog
Delta Dental of WI
delta dental of wisconsin
delta dental of wisconsin blog
dental benefits
dental blog
dental health
dental insurance
oral health
Wisconsin
wisconsin blog