What's changed at the dentist since COVID-19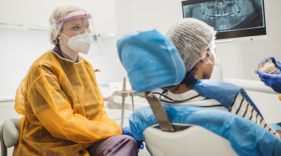 COVID-19 has changed the way many businesses operate, and dental practices are no exception. In fact, offices are taking new precautionary measures to make sure you and your family (as well as their staff) remain safe and healthy.
Here are some things you may notice when you schedule and attend your next dental appointment.
Scheduling
Like a lot of places that temporarily closed due to the pandemic, dental offices have a backlog of people requesting an appointment. You may need to put your name on a waiting list, depending on the type of procedure you require. Some offices may choose to prioritize the care based on availability and need.
Screenings
As you make your appointment, you may be asked if you have experienced any COVID-19 symptoms (fever, cough, etc.) or have come into contact with anyone with the illness. This will help your dentist decide if you can safely come to the office.
On the day of your visit, you may be asked similar questions, either inside or even outside the building. You may also be asked to take your temperature.
Your Appointment
As you arrive at your appointment, things may look a little different. Please know this is your provider trying to ensure the safest environment possible for you. Some processes facilities may require:
You may be asked to wait in your car
You may be asked to take your temperature before entering
Waiting rooms may have fewer chairs and no magazines or toys
Many offices will require you to wear a mask (if you have one, bring it with you)
You may be asked to come to the office alone, unless you are attending to a child or dependent
You may be asked to wash your hands or use sanitizer before entering treatment rooms
Staff may be wearing additional personal protective equipment (PPE), such as face shields, masks, gowns, or head coverings
Treatment may be modified to reduce the amount of aerosols created (i.e. the hygienist may hand-polish your teeth instead of ultrasonic cleaning)
Your appointment may take longer than usual, as stricter guidelines have been set for sanitization and other measures
You may see additional dividers or Plexiglas throughout the office
Please note: you should never be charged an additional fee for any Personal Protective Equipment (PPE) or infection control procedures when receiving care from a Delta Dental network provider. Infection control and PPE are considered part of and included in the fee for the complete service and therefore is not billable separately to you, the patient. If you experience issues with charges for PPE, please contact our customer service representatives at 800-236-3712.
Teledentistry
Don't forget that teledentistry is an option covered by your Delta Dental of Wisconsin plan. Providers use tools like FaceTime or video chat to evaluate a dental problem remotely, rather than requiring an in-person dental office visit. Please contact your dental office directly to determine if they offer teledentistry options.
We Are Here For You
Our customer service representatives are available to help with any questions regarding your Delta Dental plan. You can call 800-236-3712, or live chat with a representative by logging in to our member portal Monday through Friday, 7:30 a.m. – 5 p.m.