How the 3D Industry is Innovating Dentistry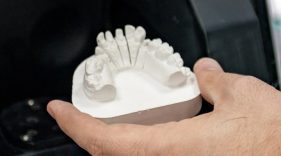 How many times have you been to the dentist's office and had to bite down on what feels like wax to get an imprint? What about visiting the orthodontist only to endure a mouth full of flavored impression putty? Thankfully, between scanning and printing, 3D is a trend that's here to stay (and make your visit more enjoyable).
Scanner Science
3D scanning uses a small hand-held device that is temporarily placed inside the mouth to capture digital images of your pearly whites. This process reduces time in the dental chair, and allows you (the patient) to visually conceptualize what the dentist sees.
Printable Pearly Whites
Thanks to breakthrough technology, 3D printers may give dentists the power to print a tooth. First, 3D scanners capture digital images of your existing teeth. The scan can then replicate the bite through 3D printing. This process will eliminate the need to take impressions of your teeth to make models that accurately reproduce your bite. Most recently, the 3D printing process has also been used to make medical-grade dental tools.
Advantages
3D technology uses less material and expedites the process of making X-rays, retainers, mouth guards, crowns and more. 3D intra-oral scanning creates a high-quality digital impression with lifelike colors in real-time.
Not all dentists have access to 3D scanning and printing, but who knows what the future holds? Learn more about trends in teeth tech.