4 Things to Know Before You Get a Second Opinion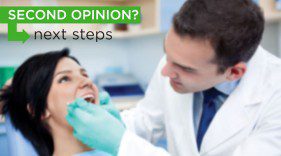 A serious diagnosis. High treatment costs. These are examples of times when you may want a second opinion about your most recent dental visit.
Regardless of the reason, when it comes to your smile, you're entitled to the best dental care possible. If you're thinking of getting a second opinion, follow these four steps before you schedule that second appointment:
1. Contact your insurance company.
In certain circumstances, a second consultation may be covered. Contact your benefits provider to know what to expect beforehand.
2. Ask your dentist for recommendations.
Depending on the severity of your diagnosis, your dentist may suggest a dental specialist over another general practitioner. Check your benefits information to see if your plan requires pre-authorization.
Pro-tip: Choosing an in-network dentist for your second consultation can help alleviate costs for potential restorative care.
3. Assess all options.
Complex dental diagnoses sometimes have more than one treatment plan. It's important to evaluate all your alternatives in order to find the best treatment for you. In addition to your primary dentist, ask your personal contacts or local dental society for referrals.
4. Bring copies of your records.
Ask for copies of your X-rays, lab test results and charting records to bring along to your consultation.  These may reduce or eliminate the need for additional tests or radiographs.
When it comes to your oral and overall health, you have choices. Contact us today if you have any questions.