Why Dental Benefits Focus on Preventive Care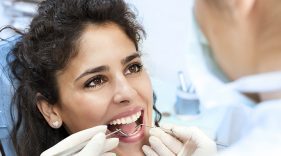 One word explains why dental benefits work: prevention. Most dental disease is preventable. Dental benefits are designed to help keep your smile healthy and prevent you from developing serious oral health problems.
To promote preventive care, many dental plans cover all or most of the cost for routine dental checkups, including cleanings, X-rays and exams, and deductibles usually do not apply to these services.
At a routine checkup, your dentist can diagnose dental disease early on and treat any minor problems, saving you from more costly and time-consuming dental procedures down the road. In addition, poor oral health caused by a lack of preventive care can affect the way you eat, smile, and talk.
Yet, a Delta Dental claims study found that many people with dental benefits still do not get the proper amount of preventive dental care. Specifically, Delta Dental's Preventive Dental Care Study found that:
• More than 65 percent of children at higher risk for tooth decay do not receive two or more fluoride treatments per year.
• More than 68 percent of higher-risk children ages 6-9 did not receive sealants on their first molars.
• More than 86 percent of higher-risk kids ages 10-14 did not receive sealants on their second molars.
• Nearly 2 million of Delta Dental's adult members are at higher risk for periodontal disease, but nearly half of them did not receive two or more cleanings per year.
By regularly visiting your dentist and using your dental benefits you can improve both your oral and overall health. Preventive checkups not only help your dentist identify and intervene early to prevent serious dental issues, but more than 120 diseases, such as diabetes and certain cancers, have signs or symptoms that can also be detected early during a routine oral exam.
Find out if you are at a higher risk for dental disease by taking Delta Dental's free online risk assessment. If you are at high risk, you may benefit from additional preventive care services that may be covered by your dental plan. Take the assessment and share the results with your dentist at your next appointment.
Along with regularly visiting your dentist, keep up good daily habits – including brushing, flossing, and eating healthy – in order to properly care for your smile.