Eye diseases explained: Glaucoma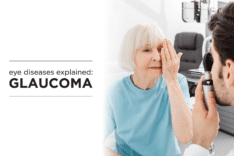 Today, about 3 million Americans have glaucoma. However, because symptoms are near impossible to catch early on, 50% of people with glaucoma are unaware they have the disease. In this blog, we'll discuss what glaucoma is, how to identify it, and how to treat it.
What is glaucoma?
According to Mayo Clinic, glaucoma is a group of eye conditions that damage the optic nerve. Your optic nerve is responsible for carrying visual information from the eye to the brain, and when that nerve is damaged, it can lead to adverse effects on your vision. If left untreated, glaucoma can eventually lead to irreversible vision loss.
Glaucoma can be either open-angle or narrow-angle (also known as acute angle) type. In open-angle glaucoma, pressure in your eye builds up slowly over time, which is why it's called the "silent thief of sight." Narrow-angle glaucoma occurs when the iris of an eye gets too close to the drainage angle, causing a blockage. Because this happens very quickly, narrow-angle glaucoma can lead to unexpected blindness.
Symptoms of glaucoma
Individuals with open-angle glaucoma will experience gradual changes in their vision, which is why it often goes undiagnosed in the early stages. If you don't get regular eye exams, glaucoma is often not detected until the condition has worsened. You may experience patchy spots in your peripheral vision and difficulty seeing in the later stages.
For narrow-angle glaucoma, more sudden symptoms include:
Severe headache
Severe eye pain
Nausea
Vomiting
Blurred vision or tunnel vision
Redness in the eyes
Hallows or around lights (like streetlights at night)
It's critical that you call your ophthalmologist immediately if you experience any of these symptoms.
How to diagnose glaucoma
Your eye doctor will always check for glaucoma during the dilation portion of your exam. This method is most commonly used and helps identify any sign of glaucoma, such as changes in the shape or color of the optic nerve or cupping of the optic disc through examination of the eye's optic nerve and retina.
Other tests can be used to diagnose glaucoma, including:
Visual acuity test: Using an eye chart, your eye doctor will measure distance and visual sensitivity to help identify specific injuries and diseases.
Visual field: This test measures a person's peripheral vision. Poor or completely lost peripheral vision may be a sign of glaucoma.
Tonometry: A small, handheld device will measure the fluid pressure inside the eye.
Optic nerve imaging: Damaged areas are identified through photographs of the optic nerve.
Gonioscopy: Doctor will examine the drainage angle using a lens placed over the eye to determine if the drain is open or closed.
Is glaucoma preventable?
Glaucoma is not preventable, but your doctor can help manage glaucoma and reduce the chance of vision loss. The seriousness of waiting too long to treat glaucoma is why it is essential to schedule regular eye exams and catch it early on.
How to treat glaucoma
Treatment options vary depending on the type of glaucoma and the stage of the condition.
Medication: Prescription eye drops can help reduce the pressure inside your eye and slow down damage to your optic nerve.
Laser treatment: Lasers can be used to help drain excess fluid out of your eye.
Surgery: Your doctor may also recommend glaucoma surgery. There are a couple different types of surgery, all done to help drain the fluid out of the eye.
Glaucoma is a disease that can affect anyone. To prevent developing glaucoma, you must visit your eye doctor regularly. If you notice changes in your eyesight or experience any of the symptoms listed above, be sure to contact your eye doctor immediately.
Want to learn more about eye health? Check out this blog.