Got Milk, Wisconsin? Celebrate National Dairy Month.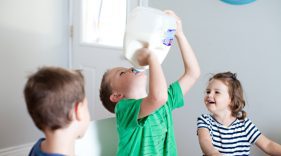 As America's dairyland, Wisconsin knows that dairy is an important part of the culture and health.
Benefits of Dairy for Your Body:
Vitamins & Minerals to Strengthen Bones and Teeth
Dairy contains calcium and phosphorus, which are beneficial for teeth. Calcium and phosphorus make up the tooth's enamel, giving it strength. Dairy products offer a balanced amount of both minerals, making it a healthy choice for your smile. Milk is often fortified with vitamin K. Vitamin K helps the formation, growth and repair of bones. It also helps calcium to absorb into the body.
Carbs & Protein to Refuel Your Muscles
Low-fat milk (including chocolate!) has been shown to help runners and cyclists refuel after working out, allowing them to perform better during a second workout. The high-quality protein in milk helps muscles rebuild, and the electrolyte content helps to replenish hydration levels.
Celebrate June Dairy Month
Your family can join in on parades, farm breakfasts, fairs, and more all month long. Farmers and communities work in collaboration with the Wisconsin Milk Marketing Board to put on these fun summer events.
Comments
comments
Tweets
Poll
Loading ...
Categories
Archives
DD Wisconsin Blog
delta
delta blog
Delta Dental
delta dental blog
Delta Dental of WI
delta dental of wisconsin
delta dental of wisconsin blog
dental benefits
dental blog
dental health
dental insurance
oral health
Wisconsin
wisconsin blog