Signs of diabetic eye problems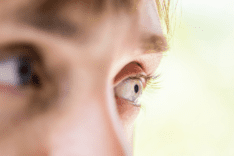 *Updated November 2023
Our eyesight is an important indicator of our overall health. This means that when we're experiencing vision problems, other health issues could also be at play. Blurred vision, for example, can be a first sign of diabetes.
Diabetic eye problems can have a serious impact on your vision and eye health. It's important to speak with a medical professional if you notice any changes in your vision.
Diabetes impacts the whole body
Diabetes is one of the most common chronic diseases in the United States. According to Johns Hopkins Medicine, diabetes occurs when your body does not properly process food as energy. "When you have diabetes, your body either does not respond to or does not produce insulin, which is a hormone that delivers glucose (blood sugar) to the cells in your body."
Diabetes can lead to serious medical problems including kidney disease, heart problems, and even vision loss. While there is no cure for the condition, it can be managed through consistent appointments with a medical team, medication, and healthy lifestyles.
Diabetic eye problems that impact vision
Unmanaged diabetes can lead to a group of eye conditions often referred to as diabetic eye diseases.
Diabetic eye problems can be prevented
By managing your diabetes, you can prevent or reduce the impact of diabetic eye problems. Some of the best ways to manage diabetes are by focusing on nutrition, staying active, and taking medications that are prescribed to you. Monitoring your blood sugar is also an important part of managing diabetes. Lowering cholesterol, quitting smoking, and wearing sunglasses while outdoors can also help prevent diabetic eye problems.
If you or someone you love is experiencing changes in vision or has been diagnosed with diabetes, it's important to see an eye doctor. Click here to find a vision provider near you.