How Diabetes Affects the Eyes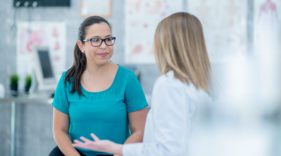 Maintaining healthy vision is important for many reasons. Clear vision allows us to go about our day-to-day life safely. Our eyesight is also an important indicator of our overall health. This means that when we're experiencing vision problems, other health issues could also be at play. Blurred vision, for example, is often the initial symptom of diabetes in many people. Learn how diabetes affects the eyes and things you can do to lower your risk.
What is diabetes? How can it affect the eyes?
Diabetes is a condition where your blood sugar levels rise above what is normal. This can lead to an array of problems including vision problems, such as blurred vision. If diabetes goes unchecked, it can cause further damage to the eyes and the rest of the body.
The four most common types of eye diseases caused by diabetes are:
Research has shown that blurred vision is often one of the first warning signs of diabetes and shouldn't be ignored. If you're experiencing blurry vision, click here.
By managing your diabetes, you can prevent side effects like this. Protect your vision and overall health from complications by maintaining good nutrition and a healthy fitness regimen. Monitoring your blood sugar is an important part of managing diabetes. By learning what causes changes in our blood sugar, we can better maintain our health.
A spike or increase in blood sugar levels can be caused by:
A meal or snack that is larger or has more carbohydrates than usual
Periods of inactivity
Certain medication side effects
Infections or other illnesses
Changes in hormone levels
Increases in stress
A drop in blood sugar is also a concern as it can lead to dizziness, blurred vision, and even unconsciousness. Your blood sugar can drop from:
A meal or snack that is smaller or has fewer carbohydrates than usual
Extra activity
Certain medication side effects
Missing a meal or snack
Drinking alcoholic beverages (especially on an empty stomach)
If you or someone you love is experiencing changes in vision, it's important to rule out any contributing conditions like diabetes. Click here to find a vision provider near you.
Comments
comments
Tweets
Poll
Loading ...
Categories
Archives
Latest Posts
DD Wisconsin Blog
delta
delta blog
Delta Dental
delta dental blog
Delta Dental of WI
delta dental of wisconsin
delta dental of wisconsin blog
dental benefits
dental blog
dental health
dental insurance
oral health
Wisconsin
wisconsin blog