The History of Women in Dentistry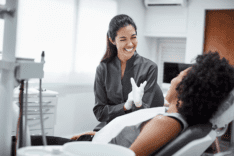 To celebrate National Women's History Month, take a look at the tremendous progressive women in dentistry. Although we couldn't cover all the pioneering women who helped shape dental care, we've included a sampling of their milestone stories.
Lucy Beaman Hobbs Taylor
The first woman to graduate from dental school had some roadblocks to overcome. When Lucy Beaman Hobbs Taylor was initially denied admittance to the Ohio College of Dentistry, she forged her own route. First, she found a mentor. Then, she taught herself the principles of dental care until she was proficient enough to open her own practice in Iowa. She was eventually permitted to enroll in dental school and graduated in 1866.
Ida Gray Nelson
Ida Gray Nelson became interested in dentistry while working part-time in a dental office. This experience helped her pass the entrance exam for her dental degree. After receiving her degree at the University of Michigan in 1890, she moved to her hometown of Cincinnati, Ohio to open her own practice as the first African American dentist.
Grace Rogers Spalding
In 1913, Grace Rogers Spalding joined efforts with another female dentist named Gillette Hayden to form the American Academy of Periodontology and holds the title of the academy's first female president. Additionally, she left a lasting impression on periodontology practices as an editor of the Journal of Periodontology for 20 years. In her work, she emphasized the importance of gums and supporting tooth structures instead of merely focusing on teeth.
Sara Gdulin Krout
Sara Gdulin Krout became the first female dentist to serve in the U.S. Navy in 1944. At the time, the military restricted women from providing dental care, so Krout became a lieutenant in the U.S. Navy Women Accepted for Volunteer Emergency Service.
Today, roughly half of dental school graduates are female compared to just over 1% in 1968. Thanks to the bold efforts of female dental professionals, the path is more open than ever for women to make their mark on dentistry.