What Happens If You Get Referred to a Dental Specialist?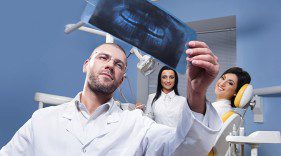 Your general dentist likely provides a broad range of preventive and restorative services, including routine cleanings and exams. However, if you have an oral health problem that requires specialized care, your dentist may refer you to a specialist with expertise in a specific field of dentistry.
The good news is that there are many specialists in Delta Dental's network. If you are referred to a specialist but want to make sure they are in Delta Dental's network before setting up an appointment, you can easily check on the "Find a Dentist" tool at deltadentalwi.com or on Delta Dental's free mobile app.
If you need care or treatment beyond what your general dentist is trained to provide, here are some of the specialists that are available.
• An endodontist treats problems that deal with the nerve of the tooth, such as root canal treatments.
• An oral surgeon performs surgery to repair various conditions with the mouth and jaw.
• An orthodontist straightens and corrects misaligned teeth, most commonly by applying braces.
• A pediatric dentist is trained to see and treat children from birth into early adulthood.
• A periodontist diagnoses and treats problems with the soft tissue of the mouth and the supporting structures of the teeth, such as gingivitis and
• A prosthodontist specializes in simple to complicated rehabilitation to replace missing teeth with procedures such as bridges, crowns and dentures.
Dental benefit features such as deductibles and annual maximums also apply to care provided by a specialist, as long as they are in Delta Dental's network. Whether you are seeing a specialist or a general dentist, you should check your dental plan to determine the care or treatment coverage by visiting our member connection.
Comments
comments
Tweets
Poll
Loading ...
Categories
Archives
DD Wisconsin Blog
delta
delta blog
Delta Dental
delta dental blog
Delta Dental of WI
delta dental of wisconsin
delta dental of wisconsin blog
dental benefits
dental blog
dental health
dental insurance
oral health
Wisconsin
wisconsin blog