In-Network Dentists vs. Out-of-Network Dentists: 5 Most Common Questions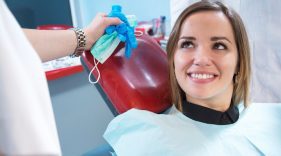 Dental benefits are designed to save you money, and one of the best ways to maximize your benefits is to see an in-network dentist.
We answer the 5 most frequently asked questions about understanding and navigating the dental network:
1. I have dental benefits. Does that mean I can see any dentist?
Before you schedule an appointment, check your benefits to determine what your out of network coverage includes. Some dental plans include out-of-network coverage and others like an "EPO" plan may exclude benefits with out-of-network providers. Delta Dental of Wisconsin offers 2 networks. Knowing the difference can save you from an unexpected expense.  Remember, even if you are free to see any dentist you choose, your best benefit is available when you visit an in-network dentist.
2. What does it mean for a dentist to be "in network?"
An in-network dentist agrees to charge patients a negotiated rate in exchange for reimbursement from a dental benefits company. This means that the dentist agrees not to charge patients more than the fees determined by the contract.
3. What are some benefits to seeing a network dentist?
The rates for different procedures such as cleanings, X-rays, and office visits are negotiated between the benefits company and dentist to provide the lowest cost possible to the patient. Conversely, out-of-network dentists can charge patients at any rate and benefits companies may not cover the costs. This could mean higher out-of-pocket costs for you as a patient. Dental benefits also focus on preventive care, and will often completely cover services like regular cleanings. This is not guaranteed if you visit an out-of-network dentist.
4. Does a network dentist accept any dental plan?
Not always. Not all dental plans are the same; many employers work with Delta Dental to choose the right plan(s) for employees, balancing cost and benefits. Some network dentists will accept one plan, but not another – even if that plan is offered by the same benefits company. Lastly, make sure you review your plan type before scheduling your appointment.
5. How can I find a network dentist?
Finding a network dentist is easy. Delta Dental has the largest dentist network in Wisconsin and in the country. Use our dentist search to find a network dentist closest to you.
Have any questions? We're here to help. Feel free to reach out to us on Facebook and Twitter.