Oral Health, Wellness, and Smiles: Apps for All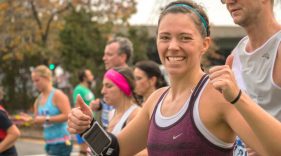 Our top 3 apps for oral health and wellness:
Simply Yoga
This app guides you through timed yoga workouts, giving tips on how to do the various poses. Practicing yoga builds strength and flexibility and is also good for your smile. Yoga can reduce jaw pain by improving posture, stimulating saliva and easing inflammation in your body, including your gums.
Map My Run
Track your runs or walks with this app, and easily find routes that fit your distance desires. Aerobic exercise is great for maintaining healthy blood pressure, refining muscle tone and improving your mood. It also reduces inflammation, important for reducing your risk of gum disease.
Kids' Dental Health
It's never too early to instill good oral health habits. Kids' Dental Health is an app and interactive book where kids learn about the hows and whys behind brushing, flossing, healthy eating and visiting the dentist in an understandable way.
And last but not least, if you like to stay organized and keep track of your benefit information, download the Delta Dental app which includes your up-to-date benefit and claims information, your ID card, and brushing timers for instilling a good oral health routine for little ones!
Comments
comments
Tweets
Poll
Loading ...
Categories
Archives
DD Wisconsin Blog
delta
delta blog
Delta Dental
delta dental blog
Delta Dental of WI
delta dental of wisconsin
delta dental of wisconsin blog
dental benefits
dental blog
dental health
dental insurance
oral health
Wisconsin
wisconsin blog