Sack Plaque is Back with the Green & Gold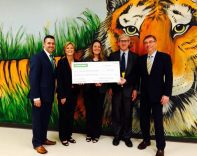 Through our renewed sponsorship with Packers Radio Network, for every Green Bay Packers sack, Delta Dental of Wisconsin will donate $100 to the Seal-A-Smile program to help Sack Plaque in Wisconsin schools during the 2016/2017 NFL season.
The Seal-A-Smile program is administered by Children's Health Alliance of Wisconsin and provides oral health screenings, fluoride varnish, and sealants when necessary to elementary students around the state at no cost to their family at schools where 35% or more students are eligible for free and reduced meals.
A sealant is a protective coating placed on a molar tooth's surface, which are most likely to get cavities. They can have a positive lifelong impact on children's oral health, as 75% of sealed teeth remain cavity free, compared to less than one-third of teeth without sealants.
Delta Dental of Wisconsin jointly funds the state's program alongside the Wisconsin Department of Health Services by providing a $350,000 grant each year. During the 2015/2016 NFL season, the Packers had 64 sacks, resulting in an additional $6400 donation to Seal-A-Smile.
The more we can do to help educate families about oral health and promote participation in Seal-A-Smile, the more children can benefit from the program.
So let's hear it, "Go Pack Go and help us Sack Plaque!"
Comments
comments
Tweets
Poll
Loading ...
Categories
Archives
DD Wisconsin Blog
delta
delta blog
Delta Dental
delta dental blog
Delta Dental of WI
delta dental of wisconsin
delta dental of wisconsin blog
dental benefits
dental blog
dental health
dental insurance
oral health
Wisconsin
wisconsin blog