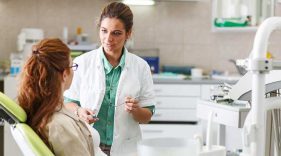 If your dentist recommends visiting a specialist, don't fear. We have compiled a list of helpful tips and information about the various dental specialties.
When referred to a specialist:
First, research the type of specialist you were referred to by your dentist.
Finally, check your benefit coverage levels by reviewing your dental plan handbook or visiting our Member Connection.
Want to know more? Below is a list of common dental specialists:
Endodontists perform root canals. They treat diseases and injuries of the dental pulp or the tooth nerves.
Fun fact: On average, endodontists perform nearly 25 root canal treatments a week, while general dentists perform less than two.
Do you need oral surgery? Then you'll be seeing an oral and maxillofacial surgeon. They treat patients with a variety of ailments, from removing wisdom teeth, to treating tumors and cysts in jaws, as well as accident victims with facial injuries.
If you have a misaligned teeth, you'll likely be referred to an orthodontist. This specialist straightens teeth by with the use of bands, wires, braces, and other corrective appliances. Check your plan to make sure orthodontia is covered.
If you were referred to a periodontist, they specialize in treating your gums (the soft tissues of the mouth) and the supporting bones – your jaws. ** teeth are not bones, please don't reference for future blogs.
Most general dentists have relationships with specialists in their communities. Ask for their recommendation on where you should seek specialty care.