Serving Mealtime Smiles: Giving Back Keeps Wisconsin Smiling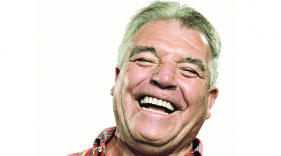 A healthy diet is key for oral and overall health. But for many older Americans, access to good, nutritious food is hard to find. Hundreds of thousands of these Americans are malnourished, subsisting on a diet that's high in sodium and carbs and low in vitamins and minerals.
This poor diet negatively impacts the heart and dental health for our elderly neighbors.
Meals on Wheels provides adults with healthy, pre-made meals delivered right to their door. Since its start in 1954, Meals on Wheels provides more than 2.5 million senior adults a year with mealtime smiles. And since 1971, Meals on Wheels of Stevens Point has been helping the seniors in our great community.
Delta Dental of Wisconsin joined the cause in 1988. Every week, employees volunteer for this incredible program through a company benefit called the Volunteer Involvement Program (VIP). As a committed community partner, Delta Dental of Wisconsin provides employees up to eight hours of pay each year for time spent volunteering for organizations like Meals on Wheels.
According to Delta Dental of Wisconsin's director of human resources, Sue Shulfer, "We proudly offer a number of programs to encourage and easily allow employees to volunteer their time to charitable nonprofit organizations that are close to their hearts. In fact, we have witnessed many employees feel proud of the work Meals on Wheels does to improve the health of our community they give above and beyond the eight hours."
Tags: