Smiles are Powerful Communicators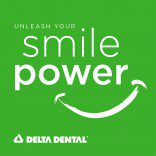 What can smiles communicate? Plenty. They can express love, kindness and confidence. They can reassure us and bring joy into our lives. Smiles also have the power to tell us about a person's oral health.
To make sure your teeth stay healthy and your smile shines brightly, you can lay a foundation for good oral health with nutritious food choices. There's no better day to start than today, National Smile Power Day.
To begin, make sure you eat:
Leafy greens, like spinach and kale. These foods are full of Vitamin K, which produces a protein that supports bone strength and acts as a shield to block substances that breakdown teeth. These foods also contain vitamin C, which strengthens gums and other soft tissues in the mouth.
Apples, carrots and celery. These crunchy foods contain fiber and take a fair amount of work to chew, which increases saliva production in your mouth. Saliva is a powerful tool that can rinse away bacteria and food particles at the end of a meal.
Milk, cheese and yogurt. Dairy products are full of calcium, which is famous for making bones – and teeth – stronger. They are also often fortified with vitamin D, which helps our bodies absorb calcium and boost bone mineral density.
Bananas, sweet potatoes and tomatoes. While it may seem like these foods don't have much in common, they all contain potassium. This vitamin boosts bone density and works in our body to prevent our blood from becoming too acidic, which can lead to a loss of calcium in our bones and teeth.
Drink plenty of water. While this is a no-brainer for overall health, water is especially important for oral health as it keeps the mouth hydrated and rinses away some of the acids or bacteria that can build up on teeth.
Fresh, nutritious foods like these lead to strong teeth and power a bright, healthy smile.