Tooth-Friendly Treats: Oatmeal Cookie Recipe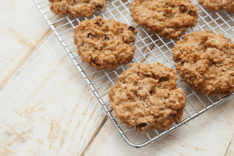 Whether it's National Oatmeal Cookie Day or just a regular day of the week, who doesn't love oatmeal cookies? To celebrate our love for the delicious treat, we're sharing a tooth-friendly oatmeal cookie recipe featuring chocolate chips.
Health-conscious recipes often call for ingredients that you'd have to purchase at a specialty store, but this oatmeal cookie recipe is made up of things you probably already have in your pantry. It only requires one bowl, so you won't have a messy kitchen afterwards, and features very little sugar. Your smile will thank you.
Let us know if you try this recipe!
Ingredients
½ cup coconut oil
1 large egg, at room temperature
1 ½ teaspoons vanilla extract
4 tablespoons light brown sugar
¾ cup oat flour (also called "powdered oats" – regular oats blended in a blender)
½ cup old-fashioned oats
¼ cup quick oats
½ teaspoon baking soda
1 teaspoon ground cinnamon
½ teaspoon fine sea salt
½ cup dark chocolate chips
Baking Instructions
Melt the coconut oil until it's liquid, then measure out ½ cup. Cool to room temperature before adding it to the recipe.
Add regular oats to your food processor or blender. Grind until the oats are fine enough to resemble flour. You can stir and grind them again if they're not all down to a fine powder. Measure out ¾ cup, gently packed, after you've made the oat flour.
To a medium-sized bowl add the coconut oil, vanilla extract, egg, and brown sugar. Whisk together until they're thoroughly mixed.
Add your oat flour, old-fashioned oats, quick oats, baking soda, cinnamon, and salt to the wet ingredients. Mix until just combined, then add in the dark chocolate chips.
Cover the dough tightly and let it chill in the fridge for no more than 30 minutes. This allows the dough to firm up. Remove the dough and use a spoon or cookie scoop to measure out dough balls. Tightly craft the balls and then slightly flatten them onto a plate or a sheet pan. You should get approximately 14 cookies. Once you have finished making the dough balls, put them back in the fridge to chill for another 30 minutes.
Preheat the oven to 350 degrees Fahrenheit. Place dough balls 2 inches apart on a lined sheet pan. Bake for 7-9 minutes or until they're starting to firm on top. Remove the pan from the oven and let the cookies cool for 5 minutes. Then use a spatula to gently transfer the cookies from the pan to a cooling rack.
Enjoy!
Related stories
Oral health policy is dynamic. Whether or not it changes depends on many factors—including a new President.