Use Our Simple Member Portal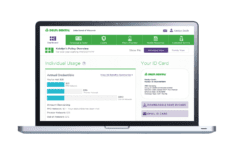 Delta Dental of Wisconsin wants you to take advantage of your online member portal! From ID card access to going paperless, we're sure you'll find tools you'll revisit time and again.
We know how confusing dental coverage can be. The online portal was designed to help you better manage and use your dental benefits. Take control of your dental experience and access your claims, ID card, and settings when it's convenient for you on your computer or mobile device. Easily review your explanation of benefits and see how Delta Dental covers your care. Email ID cards to your dentist's office or to family members on your plan. Use the handy cost estimator tool to avoid feeling uncertain about your dental expenses.
Change communication preferences with Delta Dental of Wisconsin's online member portal to best suit your lifestyle. Safely and securely message with the customer experience specialists in our award-winning Contact Center with any questions you have for a quick and accurate answer within one business day. Instant chat is a feature as well, Monday through Friday, 7:30 a.m. – 5:00 p.m. CST.
Dashboards for individuals and families allow you to see if you or anyone on your plan is overdue for a cleaning or other service. Browse the blog, oral health library, or social channels to learn how oral health impacts your lives every day. Video: Delta Dental member portal overview.
In short, on your member portal you can:
Download or email an ID card
View plan utilization features on your individual and family dashboard
See price transparency with our cost estimator – Video: Cost estimator
Go paperless and update your communication preferences (like receiving EOBs electronically)
Securely communicate online with DDWI Customer Experience Specialists – Video: Customer Service
Personalize your featured health topics and blogs
Looking for more on what our online member portal has to offer? Sign in or sign up right now at www.deltadentalwi.com.