Optometrist vs. Ophthalmologist: What is the Difference?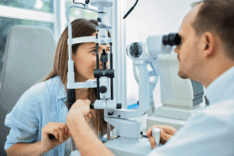 If you are confused about the difference between an optometrist and an ophthalmologist, you're not alone! Not many people fully understand the difference between the two.
In this article we will cover the similarities and differences between optometrists and ophthalmologists so you can be confident you are seeing the correct person for your vision needs!
Optometrists vs. Ophthalmologists
What are the differences between an optometrist vs. an ophthalmologist? Very basically, it comes down to what they specialize in and what they can do with your eyes.
What is an optometrist?
An optometrist is a doctor who specializes in the diagnosis and management of vision disorders. Optometrists are trained to examine the eyes for health and vision defects. They do not attend medical school; they attend optometry school to receive a Doctor of Optometry (OD). Therefore, optometrists are not medical doctors but are licensed to practice optometry.
In general, an optometrist is the person you will see for regular eye exams, vision screenings, and to receive a prescription for vision correction items such as contacts or glasses. Many times, optometrists work in doctor offices, optical goods stores, or standalone optometry offices.
What is an ophthalmologist?
An ophthalmologist is a medical doctor who specializes in the diagnosis and treatment of eye diseases and disorders. Ophthalmologists are qualified to perform surgery, prescribe medication, and provide vision care.
To become an ophthalmologist, one must complete college and at least an additional eight years of medical training. After receiving a Doctor of Medicine degree, ophthalmologists can practice medicine and surgery on patients.
In general, you would see an ophthalmologist for eye exams, eye infections, eye injuries, any changes in your vision, or any other vision needs. People with medical conditions such as diabetes should see an ophthalmologist regularly to keep tabs on any changes in their eye health.
Ophthalmologists generally work in clinics and hospitals.
Optometrists and ophthalmologists are important for vision care
Although optometrists and ophthalmologists have different levels of training and qualifications, both specialties are important for vision care. Often an optometrist will be the first to spot an eye abnormality and can refer a patient to an ophthalmologist for further evaluation.
Optometrists and ophthalmologists are your first line of defense against eye diseases and vision loss. Be sure to go to an eye exam each year to keep track of any changes or abnormalities in your vision. Vision insurance makes it easy to find and schedule visits with both optometrists and ophthalmologists.