What to do if your employer doesn't offer dental benefits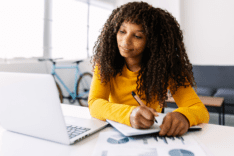 Many companies in the United States offer dental benefits to their employees. According to a 2019 Employer Health Benefits Survey, 92% of large (more than 200 employees) firms offer dental benefits to their employees.
However, if you work for a company that doesn't include dental in its comprehensive benefits package, you may be wondering what your alternatives are. If your employer doesn't offer dental benefits, you still have several options to consider for obtaining dental coverage.
What to do if your employer doesn't offer dental benefits
It's important to have dental coverage. Dental insurance goes far beyond helping you have a great smile – the preventive approach can also detect other health issues before they become serious.
The good news is there are many options to purchase dental insurance if your employer doesn't offer a plan:
Individual dental insurance plans: Consider purchasing an individual dental insurance plan directly from Delta Dental of Wisconsin. These affordable plans vary in terms of coverage, cost, and network of dentists. 
Spouse's or parent's insurance: If you have a spouse or parent with dental insurance, you might be able to join their plan if they offer dependent coverage. It's important to note that individuals over the age of 26 are not permitted to be on their parent's insurance plans and will need to purchase an individual plan.
Health Savings Account (HSA) or Flexible Spending Account (FSA): If your employer offers an HSA or FSA, you can use the funds in these accounts to cover dental expenses.
Government programs: Depending on your circumstances, you might be eligible for government assistance programs that provide dental coverage. Medicaid, for example, sometimes includes dental benefits for eligible individuals.
Dental schools: Dental schools often offer care at reduced rates, as the procedures are performed by students under the supervision of experienced professionals.
Advocate for employer-sponsored dental benefits
If your employer is not currently offering dental benefits, that doesn't mean they won't in the future. Be sure to advocate for adding dental coverage to the employee benefits package. Sometimes employers are open to making changes based on employee feedback.
Pro tip: Companies that offer dental insurance have happier and healthier employees. Click here to learn more.
Why have dental benefits?
Whether your employer offers dental benefits or not, remember that dental care is a crucial part of your overall health. It's worth investing time and effort into finding an option that works best for you. 
Need more information about affordable dental insurance plans? Check out our Individual and Family® plan offerings. To find a plan that is perfect for you, contact us.