October Recipe: Chia pudding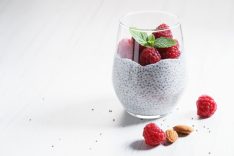 Whether you enjoy it as a dessert, snack, or breakfast, this creamy pudding makes a sweet treat without the cavity-causing sugar. The key ingredient – chia seeds – is packed with nutrients, fiber, antioxidants, and protein, while containing very few calories.
Ingredients:
3-4 tablespoons chia seeds
1 cup milk
1/2 tablespoon sugar substitute (look for one with xylitol)
1/4 teaspoon vanilla
Directions:
Stir chia seeds, milk, sweetener, and vanilla in bowl or mason jar.
Let set for 5 minutes.
Stir or shake to break up clumps.
Cover and put mixture in fridge for 1 to 2 hours or overnight.
If mixture is not thick enough, add another tablespoon of chia seeds, stir and refrigerate for another 30 minutes.
Enjoy!
Comments
comments
Tweets
Poll
Loading ...
Categories
Archives
DD Wisconsin Blog
delta
delta blog
Delta Dental
delta dental blog
Delta Dental of WI
delta dental of wisconsin
delta dental of wisconsin blog
dental benefits
dental blog
dental health
dental insurance
oral health
Wisconsin
wisconsin blog