Oral and Overall Health: A slam dunk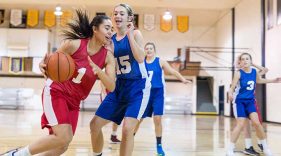 Delta Dental of Wisconsin is a proud sponsor of the 2015 WIAA State Basketball Tournament.
The Girls State Basketball tournament kicks off March 12-14 at Green Bay's Resch Center, and the Boys State Basketball tournament is March 19-20 at Madison's Kohl Center. These tournaments are the culmination of a season of hard work and intense physical activity.
Did you know that oral and overall health are closely linked? Increase your physical activity to improve your smile. Your body's systems work as a team. Athletes who maintain a healthy weight and exercise on a regular basis are less likely to develop gum disease.
4 tips to keep your oral health and fitness game in winning condition:
1. Set realistic weekly workout goals. Keep a chart to track your progress, and reward yourself for reaching your fitness goals.
2. Hit the gym with a fitness buddy. A partner is also great for talking you out of that donut. Encourage one another to take classes at the gym or go for a de-stressing walk .
3. Control your inner cookie monster. If unhealthy foods aren't around, you're less likely to indulge in sweets. Replace junk food with healthy fruits and veggies that are tooth-friendly (and delicious).
4. Combine fitness and your toothbrush routine. While brushing, dance or do a 2-minute wall-sit.
Small steps can have a big impact on your oral and overall health. Work these changes into your day to live a healthier life, and make sure to cheer on all your favorite athletes at the 2015 State Basketball Championship!